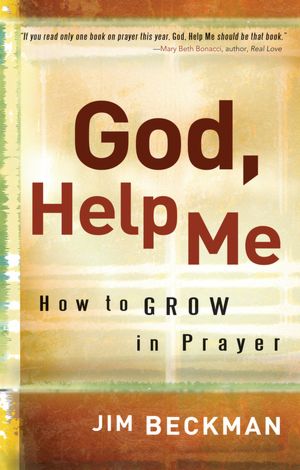 "God Help Me: How to Grow in Prayer" Jim Beckman Servant Books 168 pages
This short book by Jim Beckman is one of the few life changing books that I have gone back to multiple times, read cover to cover multiple times, and even used it for a high school small discipleship group several times.
Jim balances intense practicality with brief punchy stories that put flesh on the ideas contained in this short blueprint on prayer.  It is based on Ignatian spirituality and specifically St. Ignatius' rules for discernment of spirits and his advice concerning consolation and desolation in prayer.
From the Heart
A real eye opener was Jim's point that we can only offer two things to prayer, only two things we do determine whether we are praying "well", and they are consistency and honesty.  We can only show up consistently and be completely honest and open with God, everything else is up to him.
Another of several huge foundational take-aways from this book is the map of our heart (borrowing from Fr. John Horn, S.J. whose explanation is included in the appendix) that is laid out to help us see the different levels our thoughts or affective movements can come from.
When we were reading this book in a high school discipleship group, I drew my own version to show the teens.  Surface, or level 1, feelings or thoughts are transient and superficial, easily swayed by external stimuli.  The thoughts and feelings on level 2 are fundamentally psychological feelings that are more complex and have to do more so with our personal psychology and the way we might uniquely perceive or react to a situation.  Level 3 of the human heart is the level of spiritual experience.  This is were the Holy Spirit moves in us and God's voice is heard.  The Holy Spirit is dwelling within us and moves us to perceive spiritual truths at the very center of our hearts.
One of Those Life Changing Books
This book should be required reading for most Christians.  Jim gives you so many simple tools and lays such a complete foundation for prayer that throughout the book things are clicking and you find yourself excited to put it down and get to the nearest chapel.  Read this book once a year.
If you want to know how to discern the voice of God in prayer from the devil's voice or your own, to understand the basic rhythm of prayer is (acknowledge, relate, receive, respond), learn how to discern and deal with consolation and desolation, and begin experiencing a type of prayerful relationship with God that makes a difference in your life - READ THIS BOOK.  It's a short read, only about 120 pages without reading the appendixes (which are great as well).
+JMJ
###Do you know any other good books on prayer I should read?